January 11, 2017
Darwin Day Lecture by UCLA Cardiologist Dr. Natterson-Horowitz about how studying heart attacks in gorillas led to a new evolutionary perspective that is transforming medicine
Flamingos have heart attacks, tigers get breast cancer, gorillas can have eating disorders and dragon flies get obese. Why do animals get the same diseases people do? Join us for the 2nd annual Darwin Day lecture featuring UCLA Professor of Medicine Barbara Natterson-Horowitz, M.D.  She is the author of the New York Times best seller Zoobiquity: The Astonishing Connection Between Human and Animal Health, which has been featured on NPR and The New York Times. The lecture will be at 6pm on Thursday, February 9th in Marston Theater (ISTB IV) on the ASU Tempe Campus. The public is also invited to join a 5:15pm reception before the lecture. Please RSVP at evmed.asu.edu.  The bestselling book Zoobiquity will be on sale in the lobby, and Natterson-Horowitz will be available for signing, following the lecture.
Natterson-Horowitz's visit is sponsored by The Center for Evolution & Medicine at Arizona State University. Scientists at the Center use evolutionary science to improve human health. The Director, Randolph Nesse, M.D., says, "Barb Natterson is a world leader in evolutionary medicine and a great speaker. Her talk will be fascinating not only for health professionals, but for everyone." RSVP for the talk at evmed.asu.edu or use the keywords "Darwin Day at ASU"  in your internet browser.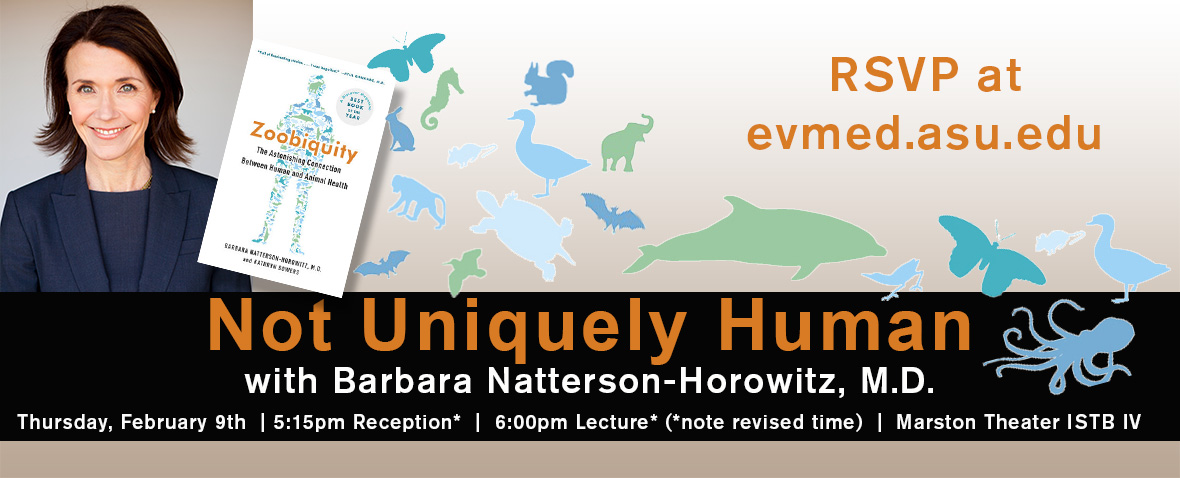 The Center is also sponsoring a one-day workshop for junior high and high school teachers on Saturday, February 11th: "Why Do We Get Sick? How to Engage Students with Evolution in the Classroom." During the workshop, some of the world leaders in the field will introduce teachers to evolution and medicine and to ideas and classroom lessons that show how understanding evolution can help improve human health. Lunch and professional development credit hours are provided. Participants will come away with new strategies for teaching evolution in engaging ways, using examples from evolutionary medicine, and addressing related teaching challenges. For questions or information about Darwin Day events visit the CEM website at evmed.asu.edu or send an email to evmed@asu.edu.
*Click here to RSVP to this event 
Wednesday, January 11, 2017